The clickable* multi-purpose FZ calendar
An overview on Zappa's tours and official releases publishing dates
Place the mouse pointer over the calendar entries to get more information**
Click to get an in-deep sight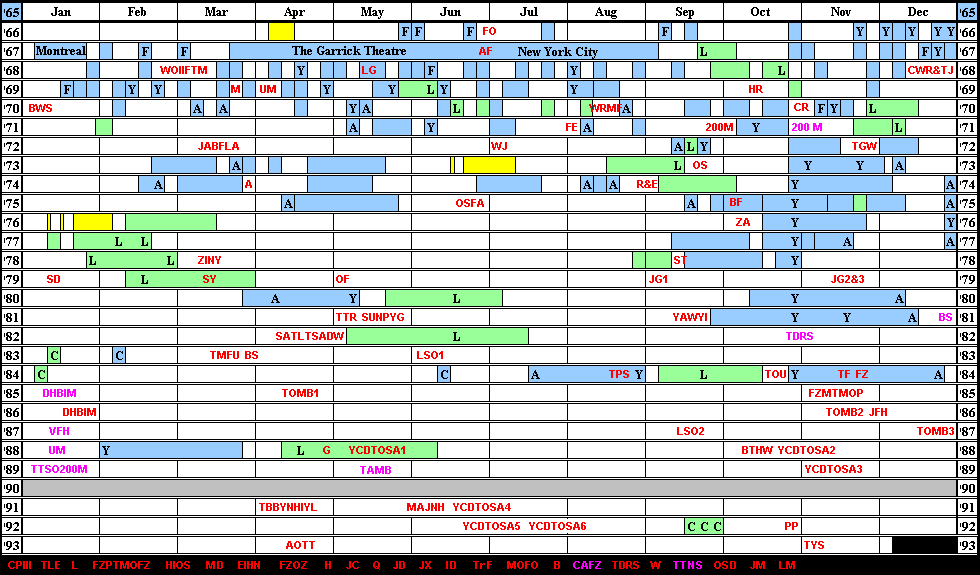 * More areas of the calendar will be clickable as soon as I will be able to do it!
** If your browser supports this function - if not check the text only version.
Disclaimer
Of course dates of shows of the sixties and early seventies are not always certain and complete. Every month has been divided into six parts, so a single square approximately represents 5 days. But a square can be fully colored also for only one gig happened. A black line inside a colored area indicates a short period of rest (4-6 days) for the band in the run of the tour (or that at now we don't know locations for the shows in that days).
Check the line-ups in-deep sights:
Check the bands/tours in-deep analysis:
Sources:
Corrections and additions are really welcome.
This page created on February 2005 and latest revised on February 21, 2009
---