Frank Zappa's
2nd 1980 North America

tour
From
October 10

to

December 11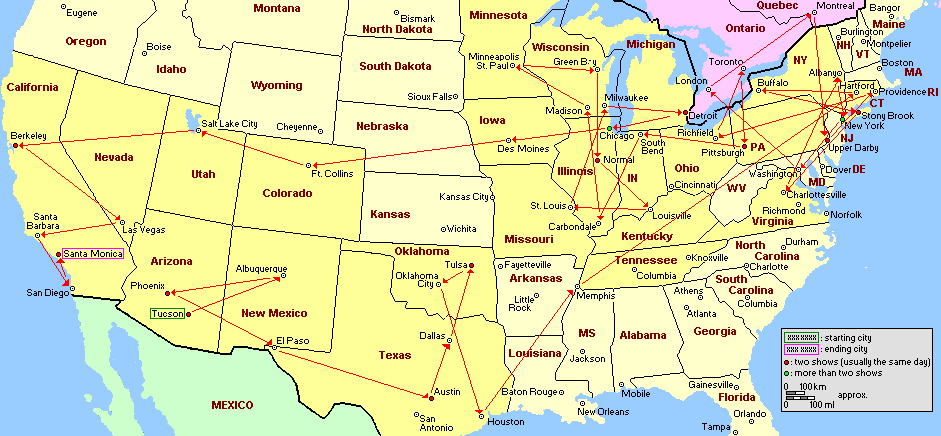 In 1980, for the first time since 1975, Zappa took a 2nd tour across North America, two mounts long. It's usually known as the 1980 Fall tour. In respect to the previous 1980 band Vinnie Colaiuta replaced David Logeman on drums and two very new band members were added: Bob Harris on keyboards and trumpet (not to be confused with the Bob Harris of the early 1971 band) and Steve Vai on guitar.
There used to be no Zappa album really representative of the music played in this tour, even if most tracks of Tinsel Town Rebellion were recorded then. In April 2007 the Zappa Family Trust released Buffalo, with the entire performance of the October 25 show in Buffalo (NY). No pro-shoot video are at now available from this tour.
In 1980 Zappa didn't release any album.



The
Band
Number of band members: 8 (previous band had 6 members, following one 8)
Frank Zappa: guitar, vocals
Ray White: guitar, vocals
Ike Willis: guitar, vocals
Steve Vai: guitar
Arthur Barrow: bass
Bob Harris: keyboards, trumpet, vocals
Tommy Mars: keyboards
Vinnie Colaiuta: drums
This line-up is featured only in this tour.
For Vinnie Colaiuta and Arthur Barrow this was the last tour with Zappa.
For Bob Harris this was the only tour with Zappa.
For Steve Vai this was the first tour with Zappa.
Known tour guests:
For this tour only one: Jimmy Carl Black, featured on vocals on Harder Than Your Husband in the Albuquerque gig.
Corrections and additions are really welcome.
This page created on March 2005 and latest revised on April 29, 2007
---